"Going for Perfection"
Come to a two-day hands-on Terrier (Scotties, Westies, Cairns, Norwich, Norfolk, Sealyhams, et. al.) grooming seminar by groomer/handler/judge Bergit Coady-Kabel, August 5 & 6, 2023 in Tacoma, WA.
Only 30 hands-on slots are available. Registration is on a first-come, first-served basis.
Sponsored by the Washington State Scottish Terrier Club.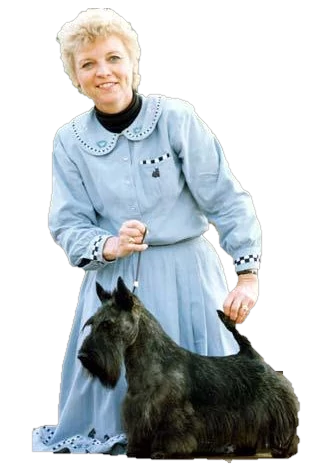 Details
Presenter
Bergit Coady-Kabel
Award winning Terrier Groomer & Handler
AKC Judge (2023 Montgomery County KC BIS Judge)
When & Where
Saturday, August 5 & Sunday, August 6, 2023.
Win-Star Bed and Biscuit Kennel
3602 112th Street East
Tacoma, WA
Cost
Saturday only: $150
Both days: $250
Auditors (no dogs): $125
Registration
Make payment via check sent to Michael Krolewski, WSSTC Treasurer. 18831 NE 140th Place, Woodinville, WA 98072 or via paypal at .
Send your name, address, telephone number, email, as well as breed of dog and a list of one to five things you would like to learn in an email to . Enrollment is on a first-come, first-served basis.
A registration form may be found in this flyer.
Schedule
Day 1 — Why and How to Do It
Using the right equipment in the right way (knives, scissors, table, mirror)
Staging your grooming
When to strip and when to roll a coat
Timing is almost everything
Demonstrations (heads, shoulders, tails, and legs)
Tighten & clean up shoulders
Leveling out toplines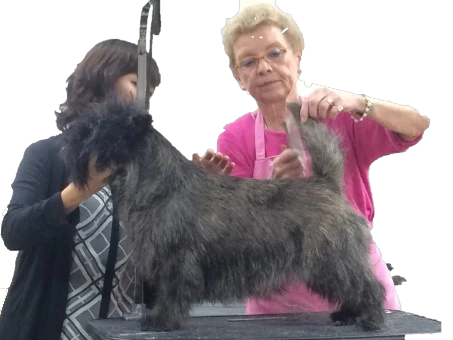 Day 2 — Hands-On Workshop
Burning questions
Finishing up the groom
Seeing your dog every which way (table, ground, down, back & around)
Ring presentation secrets
Bring your own tools and dog. (Loaner dogs may be available.)
Some knives and equipment for sale
Tables provided for out-of-state attendees
Note: Please have your dog in the best trim and condition that you can muster before coming to the seminar!
Sponsor
This seminar is sponsored by the Washington State Scottish Terrier Club. Further details may be available on their website.